Americas most famous two glass makers Caspar Wistar and Wilhelm Henry Stiegel are linked together on this legal document pictured below as Caspars wife Catherine Wistar passed away in 1786 and left a large sum of money and land for her Grand Children Bartholomew,and Caspar the III. Wills and courts took time to settle and this document although dated in 1793 was begun many years prior.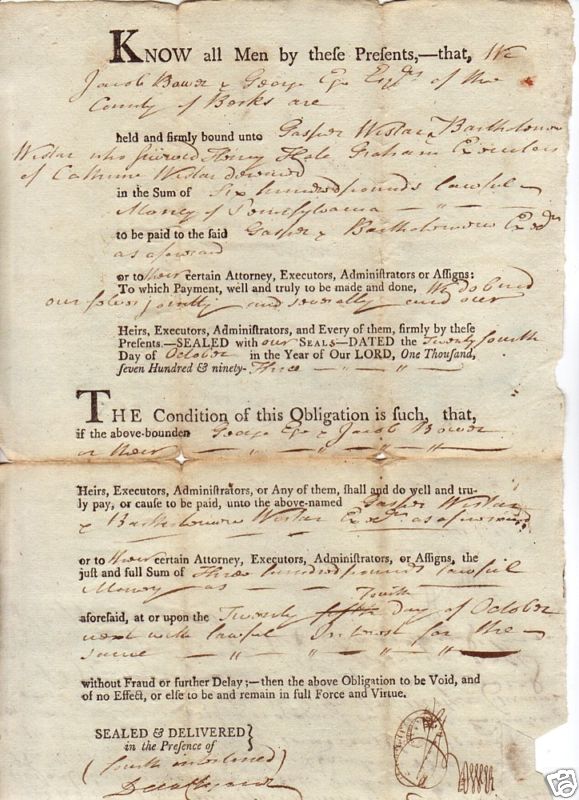 Caspar Wistar, began the industrial modes of his entrepreneurship with the purchase of an iron furnace,in Abbington Delaware and later diversified into glass making. The Wistarburgh glass operations predated Stiegel's American Flint Glass.by 25 years.
Caspar Wistar may be best remembered for the glass factory but,he became the second largest landowner in Eastern Pennsylvania next to Thomas Penn. Wistar was, in fact, America's first real estate tycoon, buying large tracts from the Penns and others, carving them into smaller parcels, and selling them to German immigrants settling in the vicinity of Berks County. Caspars wife survived much longer then he and left Caspars Grand Children the money and also quite a bit of acreage in North Eastern Pennsylvania.Other names seen on the document include:
Jacob Bower Register and recorder for the courts:

Jacob Bower of Reading, was born in 1757. he entered the service in June 1775, as a Sergeant of Capt George Nagel's Company, from Reading (First Defenders), in Col Thompson's Battalion of Rifleman; promoted to Quartermaster; First Lieutenant January 18, 1776, in Capt Benjamin Weiser's Company of the German Regiment. Raised in Heidelberg Twp of Berks County, near the town of Womelsdorf; he served as captain in "Flying Camps"; Captain Sixth Pennsylvania Continental Regiment; February 15, 1777; transferred to Second Pennsylvania, January 1, 1783; died at Womelsdorf, August 3, 1818.

At the close of the war he settled at Reading, and became a prominent county official. He first filled the office of Sheriff for one term, 1788-1790; then County Commissioner, 1790-1793; Recorder, Register and clerk of the Orphan's Court, 1792-1798; County Auditor, 1799 and 1800.He was the son Conrad Bower, innkeeper, of Reading, who died in 1765. Captain Bower served faithfully during the entire war and was a most gallant officer.

George Ege Judge:


George Ege is the piece of this puzzle in this land document that ties the Wistar and Stiegel name together. Henry Stiegels first wife Elizabeth Huber died young leaving Henry to raise two small daughters. Henry was only 29 and quickley remarried a woman by the name of Elizabeth Holz on October 24th 1758. She was the sister of Anna Catherine Holz the wife of George Michael Ege a prominent man in the Province of Pennsylvania. He was a member of the Independent Troop of Horse of Philadelphia. He was also a veteran of the French and Indian war.

The ceremony was performed in the Holz home in Roxborough Pennsylvania a resort near Philadelphia. The record of the marrige is preserved in the archives of St. Michaels Luthern Church in Germantown. Tradition has it that the second Mrs Stiegel had kept a house for her husband in Philadelphia.This probably meant she was kept in charge of the home in Philadelphia.

Shortley after this marriage on January 18th 1759 George Michael Ege died and at the urgent solicitation Of the Stiegels his widow Anna and her two sons George age 11 and Michael age 6 came to make their home at Elizabeth Furnace with the Stiegels. The two families being from that time forward were bound together by the closet ties. George Ege Jr went on to be a very wealthy business man and had purchased Elizabeth Furnace Stiegels Mansion and Iron works.
Later in life destitute from the loss of all his real estate the glass factory's and the Iron furnaces Stiegel turned to his Nephew George Ege who he raised as his own son and moved in with him for the final two years of his life.Young George became a very prominent citizen in his own right as he was a veteran of the war of Independence,Sheriff and while working as a Judge when this document was recorded George Ege had the pleasure of having known Henry Stiegel and now the Wistar clan AMERICAS TWO MOST FAMOUS GLASS MAKING FAMILIES.Wilhelm Henry Stiegel died at George Eges Home on January 10th 1785

Witness signatures also on the document:


Daniel Clymer;

Daniel Cunningham Clymer, 1748-1810.
Daniel Cunningham Clymer was an officer of the Philadelphia Military Associators, 5th Rifle Battalion. In 1776 he was a a deputy commissary general of prisoners in the Continental Army. Following the war 1777-1781, he became a lawyer in Berks County.

Benjamin Morris. Associate Judge in Berks County 1798-1800
Benjamin was also related to the Wistars. His Grandfather was Samuel Morris.


This indenture ties the names of Wistar and Stiegel together again and makes for an interesting history read wouldnt you agree. No other historians I am awhere of realized the link George Ege provided between the two families.George Ege who took care of his step Dad (Uncle Wilhelm Henry Stiegel) had his hand in Caspars wife Catherines indenture of monies paid to Bartholomew and Caspar Wistar her Grandsons (Richards sons) . George was always helping out our early glass manyufacturers in one way or another.





Click on a picture to enlarge.

---