Glass House whimseys from 1760-1860

---
South Jersey Glass House Whimseys. A looped Aqua And White Gemmel Bottle. An Aqua green Gemmel Bottle with applied glass quilting,and a Glass Fish Aqua Green in Color with threading applied around the body.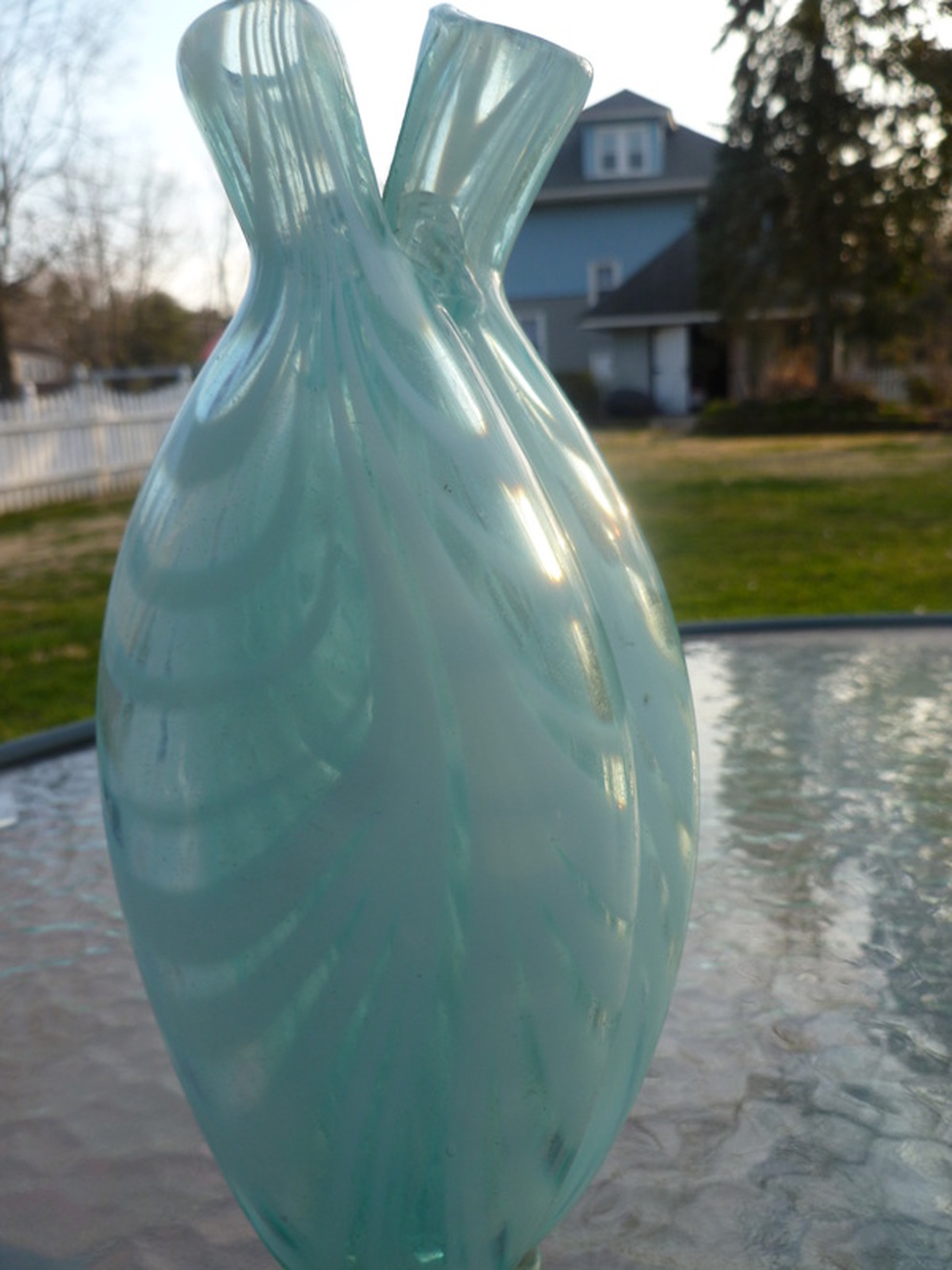 ---
Early South Jersey Pitchers and Creamers 1810 to 1850

Table ware was made at just about every early Southern New Jersey Glass Works from the 1730s to the 1880s. These pitchers and creamers were never production items but were made at the end of the day or for exhibitions when people toured the glass factory's. The crimped footed design originated at Wistarburgh and was used quite extensively on these items until about 1860 .These pitchers are usually loaded with impurities in the glass indicative of the batch mixture being the end of day mix where all of the dirt and lime would settle into the bottom of the clay pot.These items are considered to be quite rare. The amber creamer is a product of the Whitney Glass Works of Glassboro New Jersey in about the year 1865. The taller apple green pitcher was made between 1820 and 1840. The base has a crimped footed design. It also has the type 2 lily pad design emanating from the base and has a double barreled solid handle. The bright light blue aqua pitcher has a folded rim and has the crimped type footing on the base. The tallest creamer is light green aqua in color and also has a folded rim and like the previous one has the crimped footed type base. All of the pitchers and creamers have large rough pontil marks.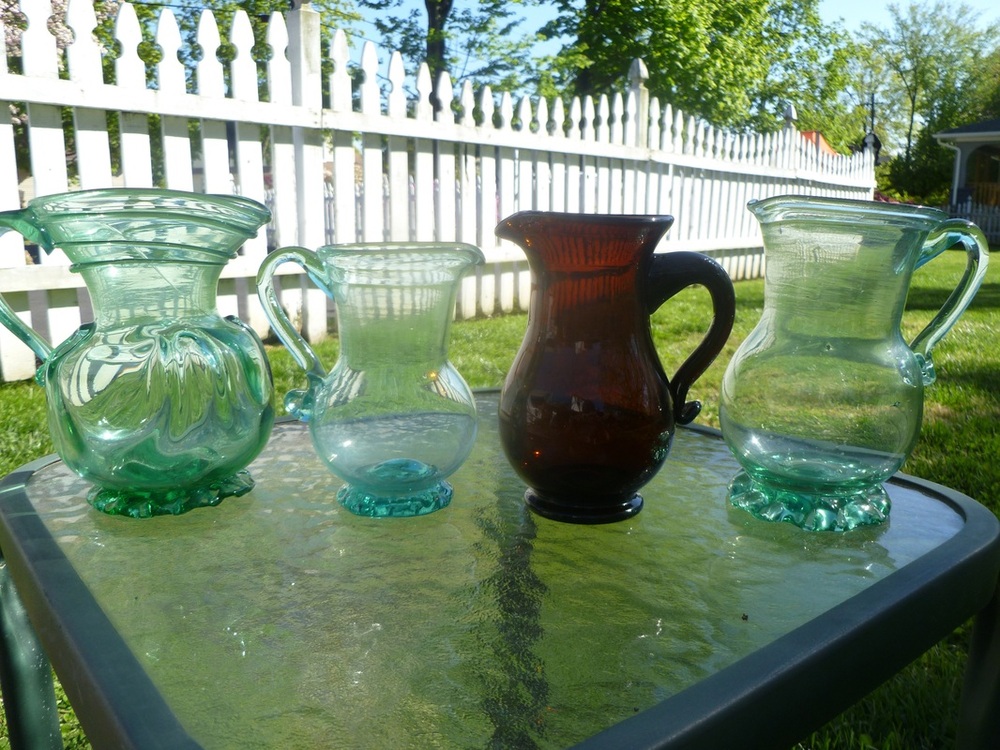 A

---
Wistarburgh Schnappshunde light green with a hint of light aqua in color. Very crude, lacking ornate decor seen often on the German made versions. The bottle is made in the double gather
( half post ) method and was also blown in a sixteen ribbed pattern mold very typical of the early German influenced American made glass in the mid and late 18th century. The pontil mark has been plugged with a large disc of glass and a crossed hatched crimping tool was used to pincer and forge the paws. The lips and ears were added separately from the same gather of glass. Caspar Wistar's United Glass Company had three glass Company's functioning simultaneously under one roof all had master gaffers and any one of those three company's were quite capable of producing this dog shaped bottle for Mr Wistar their business partner. This is one of the finest pieces in my personal collection and has good provenance also.

---
South Jersey and Pittsburgh district Looped Rolling pins.

Leg Horn style glass hats 1810 to 1870


Below are examples of blown glass hats made in all of the early glass factories in all regions of the United States.

Whitney Glass Works Amber colored bottle mold flared brim on all sides Leg Horn hat whimsey.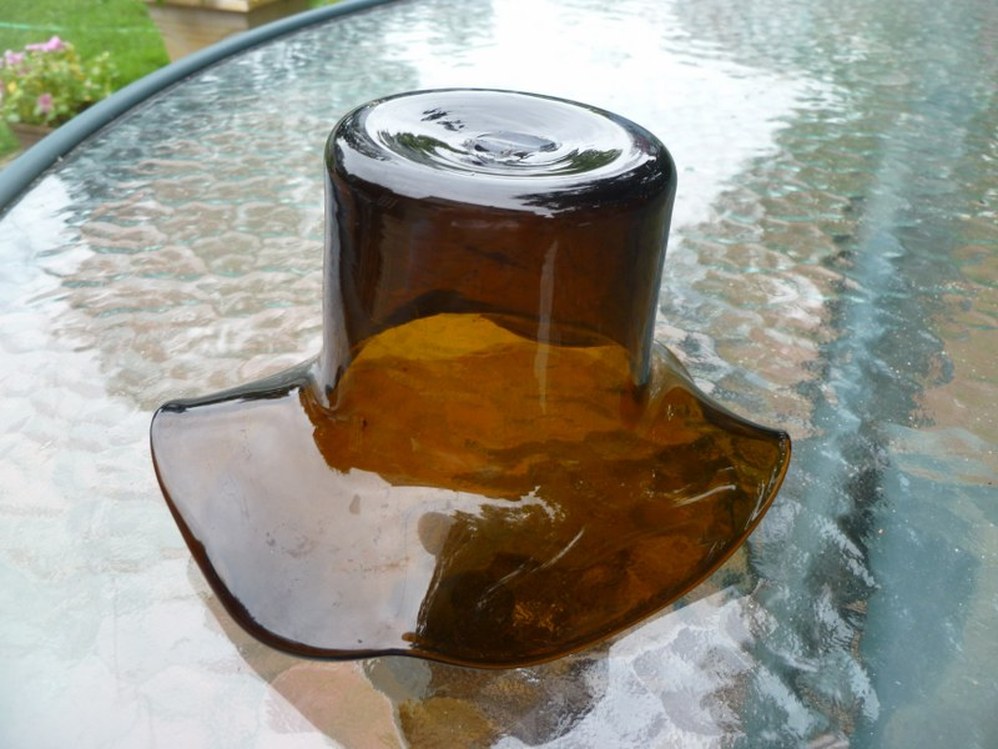 ---
Whitney Glass works cobalt blue hat Glassboro New Jersey.
This hat is a home brew for me as it was likely made at the famous Whitney Glass works in present day Glassboro New Jersey. I live but 5 miles from the site of where these works were located. This particular hat is taller then other similar end of day similar ones indicative of the 1840 to 1865 end of the civil war period as the taller hats were becoming more fashionable at that time. Just look at what president Lincoln wore for a comparison. The hats blue color is unmistakably Whitney Glass works blue in color as similar whimseys and other glass pieces with solid attribution to those works have identical color.This piece is flawless and is tall at 5 inches in height,by 6 inches long by 4 inches wide. There is a sharp rough pontil mark and the hat was made from a common bottle mold. This one was found locally at an antique store Mullica Hill New Jersey.


---
The Capewell flint glass works of Westville New Jersey made this hat in the early 1880s.It is made of a batch of metal with a high amount of lead in the glass. There is a lso a thin band of an iron pontil deposit mark around the perimeter of the base.

---
Waterford Glass Works Waterford New Jersey 1850 to 1860 sky blue bottle mold leg horn hat whimsey.

---
Lockport Glass Works spring water bottle mold hat whimsey, in a pretty shade of deep blue green metal glass,made between the years 1865 to 1870.

---
The Clyde New York Glass Works bottle mold medium sky blue glass hat whimsey 1865 to 1870

---
The New England Glass Company 1835 to 1845

Stoddard New Hampshire pitcher/creamer 7 inches tall,crimped footed with a rough pontil mark.

---