The Keene Marlboro Street Flint Glass Works Of Justus Perry 1817 to 1822

When Twitchell,Morgan and Schoolcraft ran into financial difficulty in their first year of operation they turned to Merchant Investor Justus Perry. Perry loaned the capital necessary to the three partners for the factory to be able to continue to operate. The harmony did not last too long as Schoolcraft tired of long days with little pay to show for it left the firm to begin a new life in another adventure. Twitchell and Morgan tried to make the works profitable and sustainable but in the end they were never able to recover from the financial troubles associated with the glass factory and could not make repayment on the loan from Mr. Perry. With Perry now in full ownership the factory underwent good changes as the factory was enlarged,output was increased and a profit was finally being realized.

Here is a picture of an ad placed by Justus Perry that ran in the Connecticut Courant Newspaper on February 18th 1817 seeking three first rate glass blowers. Notice he calls his works the Flint Glass Factory.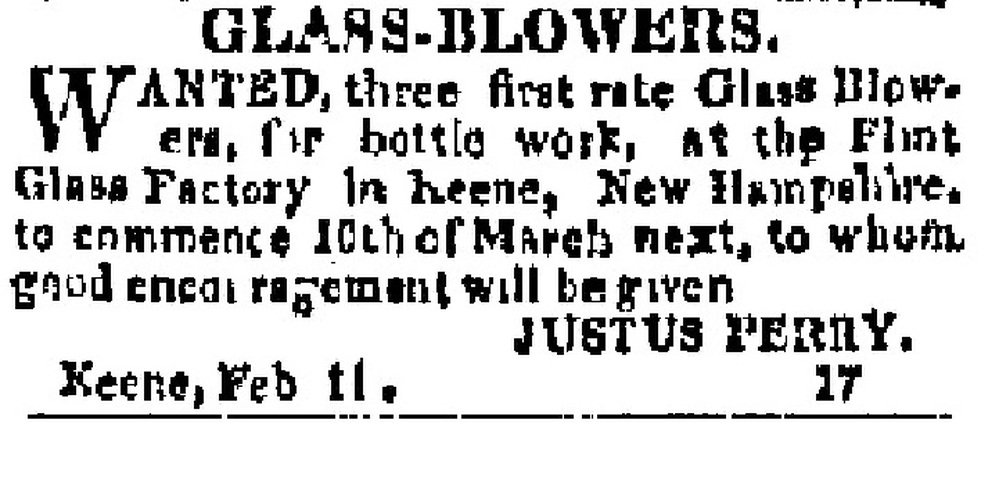 Masonic / Eagle Pint Flask pretty blue green color and the Initials H S Henry Schoolcraft changed to J P Justus Perry when he took over the works.

---
Masonic /Eagle pint sized flask The word KEENE was either misspelled by the mold maker or he simply forgot to add the middle bar to the letter E. The letters appear as the following on the flask KCCNC. The Cs are squared indicating they were intended to be the letter E. This flask was done hastily as the Eagle and the Masonic emblem are laid on crooked.Thinking about the reason for the unfinished lettering another possible reason this misspelling occurred was the mold maker was a foreigner to the English language or how about this for conjecture,the lettering is really secret code in the Masonic language.