The Temple New Hampshire,Glass Manufactory of Robert Hewes 1780-1783.

The Temple Glass Manufactory were founded in 1780, when Boston entrepreneur Robert Hewes decided to establish a glass factory on Temple's Kidder Mountain . He chose the location,because of the cheap cost of the land and the area had many of the resources that were needed for the manufacture of glass. A more important and most likely reason Hewes chose to locate the factory so remotely was to protect it from the invading British Army which was scattered through out New England at the time.

His main market was likely in Boston and although it is still somewhat puzzling as to why he decided to build so far away from his most likely customers the above thoughts are probably the most likely reason in all aspects as to why Robert chose the area . It was however the first factory recognized in the colonies to make "crown" glass in crystal clear quality, rather than the green tinted, lower quality glass often used in windows at the time. His first blast was in September of 1780 and ended almost immediately when the newly established Temple factory burned down in early December of 1780. Hewes would go on to rebuild the works on the same site.

Problems continued to plague Hewes' glass making efforts in Temple, and ultimately ended when the borrowed money from the town of Temple a sum of $3,000 pounds was unable to be repaid .In a desperate move seen often in the young glass industry of America a lottery Hewes organized would have been able to pay back the money borrowed. One problem hindered this as the lottery tickets were purchased with "new paper notes," a short-lived currency. When the financial markets crashed during the end of the Revolutionary war the value of the paper currency fell through, and so did the lottery, and the glass works failed shortly thereafter.

Hewes was forced to leave town never to return again. He went on to have other successful glass ventures in Boston, but the debt to Temple was never repaid. In the year 2011, an anonymous donor gave the town several authenticated artifacts from the glass works, including chestnut bottles and vials, with the condition being that the contribution would be considered as the actual payment of Hewes' debt, which the 2011 Select Board granted.

Below Hewes has petitioned the Town Council and the Congress of the United States asking consideration for his proposition to exempt the glass manufactory from taxes so he could rebuild the glass works.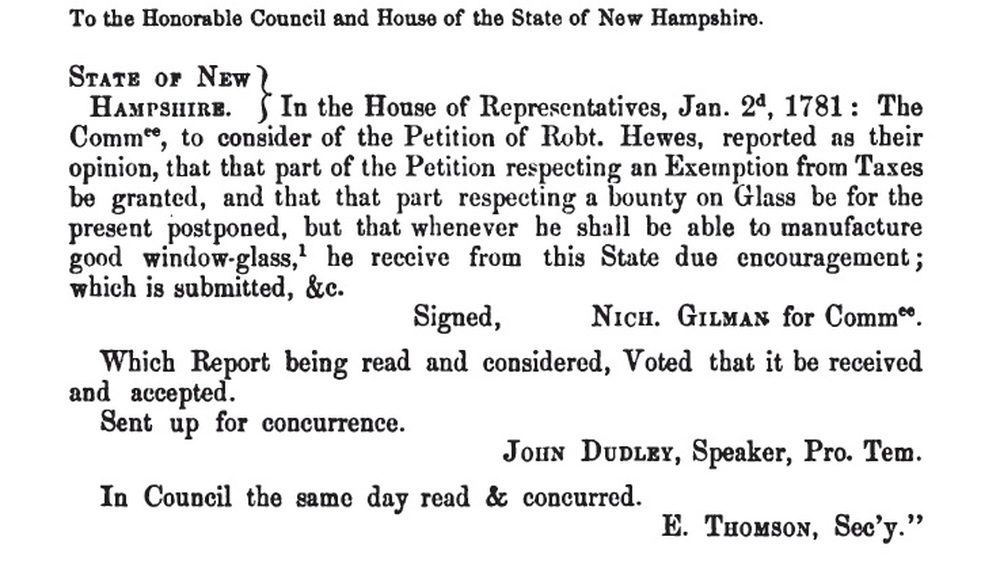 Sometime during the months of January or February, 1781, Robert Hewes directed the following letter to " The Honorable Selectmen of the town of Temple asking them for great assistance for the erection of his glass works.

" Gentlemen, — After due Respects, hoping these will find yourselves and families well, they are to inform, that being almost discouraged by the misfortunes I have met with, & the little spirit of the People to encourage me, I am almost determined to drop all thoughts of prosecuting the Glass Manufactory in Temple, for why should I strive to introduce a manufactory to benefit a people that has not spirit enough to subscribe a trifle to encourage it, when I have met with a misfortune for if the Business ever comes to perfection it will be a greater service to the country than it possibly can to me, oven if I make my fortune ? But, Gentlemen, it teas not money only that induced me, but it was because I was satisfied I could do it, & in so doing serve my country most essentially — more especially your Town. You will do well, Gentlemen, to consider this is not a thing for a moment, but it is laying a foundation for the good of Posterity ; for certain I am, if my Glass-works are brought to perfection, they will soon be as universal as the Iron-works, or many others : as I said to Esq. Blood the other day, that the Glass makers should be employed if it were only to steal their art. I think the Town of Temple,as a Town, will be highly culpable if they let this matter slip without a struggle. But it is not for me to point out the advantage you are all sensible of. What I have to say is, what will your Town do to encourage the matter? I shall have to send 60 miles 1 for stones to build my melting-furnace, which will take eight teams, & then all the other furnaces are to be rebuilt; but all this while the Glass-makers and families are to be supported, which will be a costly affair. Your Court will make a Lottery, I suppose, but that will be a thing of Time. Can I be credited for one or two Carcasses of Beef till the Lottery is drawn, or what way can you think of to help me till the works are set a-going ? I should be glad to know your opinion of the matter as soon as possible, so that I may know what to determine.

From your Friend and Humble Servant,

Robert Hewes.
P. S. Mr. Ashley will wait upon you with this and receive your
answer, and transmit it to me as soon as possible. — R. H.

P. S. If I could be properly encouraged, I would come up in the
Spring and work at it myself till it comes to perfection."



In a Town Meeting,on "March 5th, 1781, The selectmen were considering advancing a loan to Mr. Hewes (for y e encouragement of ye Glass Manufactory) £3000, with good security, to be assessed in two months from this day, and collected as soon as may be." On the same day Mr.Simeon Ashley directed a letter " To the Honorable Selectmen of Temple'


"Glass House, Temple, Mar. 5 th , 1781.

Sirs :
By Mr. Todd, the Bearer of this, I must desire an answer to Mr. Robert Hewes's letter delivered by me to L. Howard some days ago, directed to the Honorable Selectmen of Temple, requesting that the Glass-makers might be supplied with Provisions, &c, &c, — which answer I must forward to said Hewes, as soon as may be, by a person dispatched on purpose for that end, in order that he may be enabled to conclude whether he can or cannot go on to prosecute the Glass Manufactory, by him begun in said Temple ; and, in the meantime, I am, Sirs, in behalf of Mr. Rob' Hewes,

Your most obedient & very Humble Servant,

Simeon Ashley."

Mr. Hewes writes the next letter in order, " To the Honorable Selectmen of the Town of Temple:"

" Gentlemen : After due Respects, these are to inform you that I received your favor of the 7 th instant, by which I understand the Town have voted a Sum of Money, to be raised as soon as may be. and then to be sent me upon loan, provided good security be given. In the first place it will be too long raising, and, in the nest place, I do not choose to take any upon the plan you mention, though I have good security to give for ten times the sum I want to bring the business to perfection, and can have it here immediately. But that, I am determined not to do, for was I to take a sum of money on that plan, and another misfortune happen,
then I should involve myself indeed ; but, at present, I have not gone too far to recede, which I am determined to do immediately; therefore, if there is any Gentleman in Temple, or any of the Towns around, that will take the matter in hand and carry on the business, I will sell them the whole at a low price, being determined not to do anything further about it, without it is to bring down the workmen, if nobody appears to purchase the houses & tools.

Yours, to serve, Rob T Hewes.

Boston, March 11, 1781.

P. S. — Considering there is so much done toward it, and there is so
little to do, & the workmen on the spot, I should think a Number of
Gentlemen might go on with it, if it was only for another trial. R. H.

P. S. — I expected to have been encouraged on the strength of the
Lottery, & what was received by myself or people, to pay for when the
lottery was drawn. R. H."

This letter was answered favorably and, Mr. Hewes again writes :


" Gentlemen : — After due Respects, I would inform that I received your favor of the 19 th inst., by the Kindness of Deacon Appleton, by which I find we come to a better understanding, and if I can be supplied with money on loan, upon the strength of the Lottery, and not risk all I have, it is all that I want, I giving an obligation to prosecute the Glass Manufactory. But to adjust matters properly, it is best for me to come up to Temple, which I shall do next week : being obliged to go to Worcester & Rutland, I can easily come over to Temple. In the meantime, I should be glad if the Necessities of my Glass-makers might be looked
to and supplied.

I expect to be up on Wednesday, till then, give me leave to subscribe
myself the sincere friend and well-wisher to the Town of Temple, & the
Glass Manufactory. Ron T IIewes.

Boston, March 24th, 1781.

P. S. — The way & means of raising the money intended, may be had
in consideration till I arrive. R. H."


Not withstanding the assurance with which Mr. Hewes here refers to the Lottery, it was some days subsequent to this that the " Lottery Act " passed the General Court.

THE LOTTERY ACT.
State of New Hampshire.

In the year of our Lord one thousand seven hundred and eighty-one.An Act to authorize certain persons to raise Two Thousand Pounds of the New Emission, to enable one Kobert Hewes to carry on the manufacturing of Glass in the Town of Temple, in the County of Hillsborough. Whereas, Robert Hewes of Boston, in the State of Massachusetts, hath petitioned the General Court, setting forth that he had been at great expense in erecting Buildings and preparing materials to carry on the manufacturing of glass in the Town of Temple, and that he had brought the same near to perfection, but was unable to proceed further without public encouragement, and should be obliged to drop the enterprise, Wherefore he prayed a Lottery might be set up to raise a sum of money for the purpose aforesaid. Upon consideration of which Petition, the same appeared reasonable, and that the granting the prayer thereof would be for the public good. Therefore, Be it enacted by the Council and House of Representatives in General Court assembled, and by the authority of the Same, that Liberty be, and hereby is granted, to establish and carry on a Public Lottery, to raise the sum of Two Thousand Pounds of the New Emission, to be applied to the purpose of carrying on said Glass manufactory and paying incidental charges; and that Timothy Farrar, Esq., Jacob Abbott, Esq., and Francis' Blood, Esq., and the major part of them be, and hereby are appointed and authorized to carry the said Lottery into execution in such form, manner, and way, as they shall deem most effectual to promote and accomplish the end and design proposed : All which they are to complete within the term of one year from the passing this Act. And that they render an account of their proceedings, relative to the same, to the General Court of this State, when thereto required. And that before they enter upon the business, they severally make solemn oath before some Justice of the Peace for said County, faithfully to discharge the trust hereby reposed in them. And be it further enacted by the authority aforesaid, that the said Timothy Farrar, Jacob Abbott, and Francis Blood, Esq., or the major part of them, be, and they hereby are, fully empowered to pay to the said Robert Hewes the money raised as aforesaid, deducting their necessary charges for the purpose aforesaid, — Provided, they shall judge, that by means thereof, he will effectually carry on said Business, and not otherwise.

State of New Hampshire. In the House of Representatives, March 30th, 1781. The foregoing Bill having been read a third time, — Voted that it pass to be enacted. Sent up for concurrence.

John Langdon, Speaker.
In Council, 30th March, 1781.
This Bill was read three times, and voted that the same be enacted.

M. Weare, President.

Taken from a" Book of Acts of the New Hampshire General Court," l780-84, pp. 223-4


Below is the lottery ticket created for the glass house drawing:


Below are a picture of the ruins of the works from a post card in the year 1907
The Glass-House was 65 feet square, and about as high as the old Meeting-House (the one built 1779-85.) It was raised with pulleys, teakles,"etc. Francis Cragin was the master-workman. It was situated about a mile from New Ipswich North Line, and half a mile from Sharon East Line.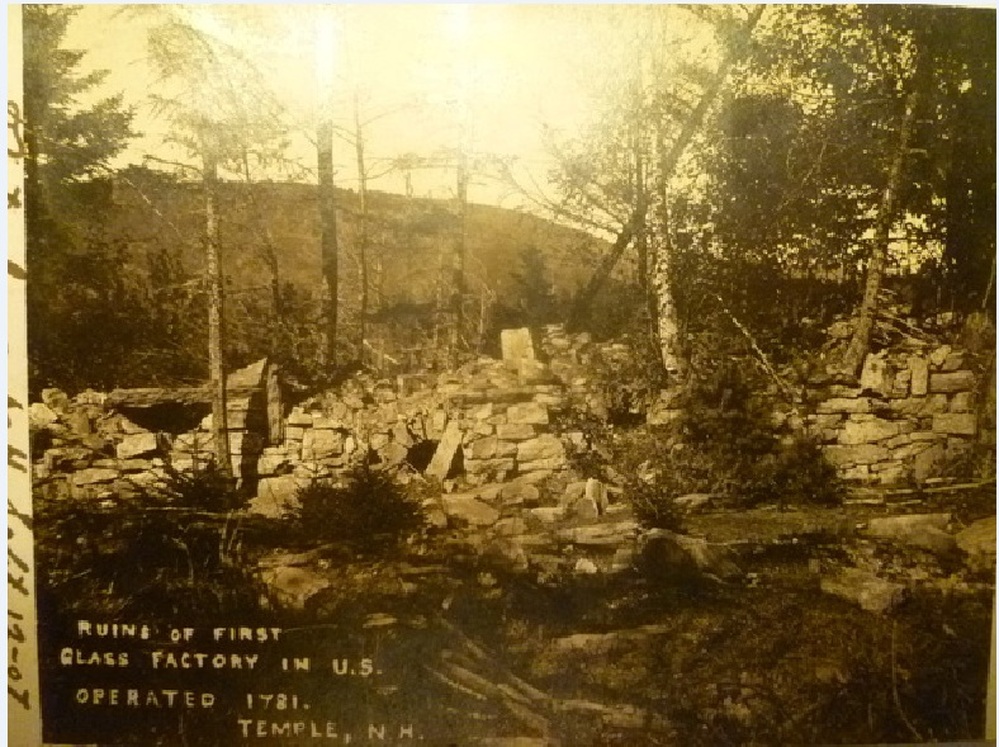 It appears , that Mr. Hewes took his men to Temple during the month of May, 1780. Samuel Hewes, of Roxbury, (a cousin of Robert Hewes, and now a deaf and blind, but still brilliant, old gentleman of 93,) says that he went to New Hampshire because land, wood and labor were cheaper there than elsewhere. Many people wonder where he got his sand. I have heard but one tradition contrary to the general belief that he got it in the neighborhood of his works, (which belief is founded on the fact that the quality of glass made was not the finest, that to bring sand a great distance would be almost preposterous, and that when he writes of being obliged to go 60 miles after furnace-stones, lie would assuredly have added a similar statement concerning his sand, if the distance had warranted, &c, &c.,) and that is, that it came from Magog pond, in Littleton, Mass. Bottles were the principal article of manufacture. "I was very young at that time," writes Mr. Hewes, of Piqua, "but I remember seeing the glass decanters, etc., which my mother told me were made at his glass-works in New Hampshire." The lottery was a failure. The tickets wouldn't sell as expected, and little was done afterward.

Below is an ad which ran in the Monday, November 12, 1781 edition of the Independent Ledger out of Boston, Massachusetts.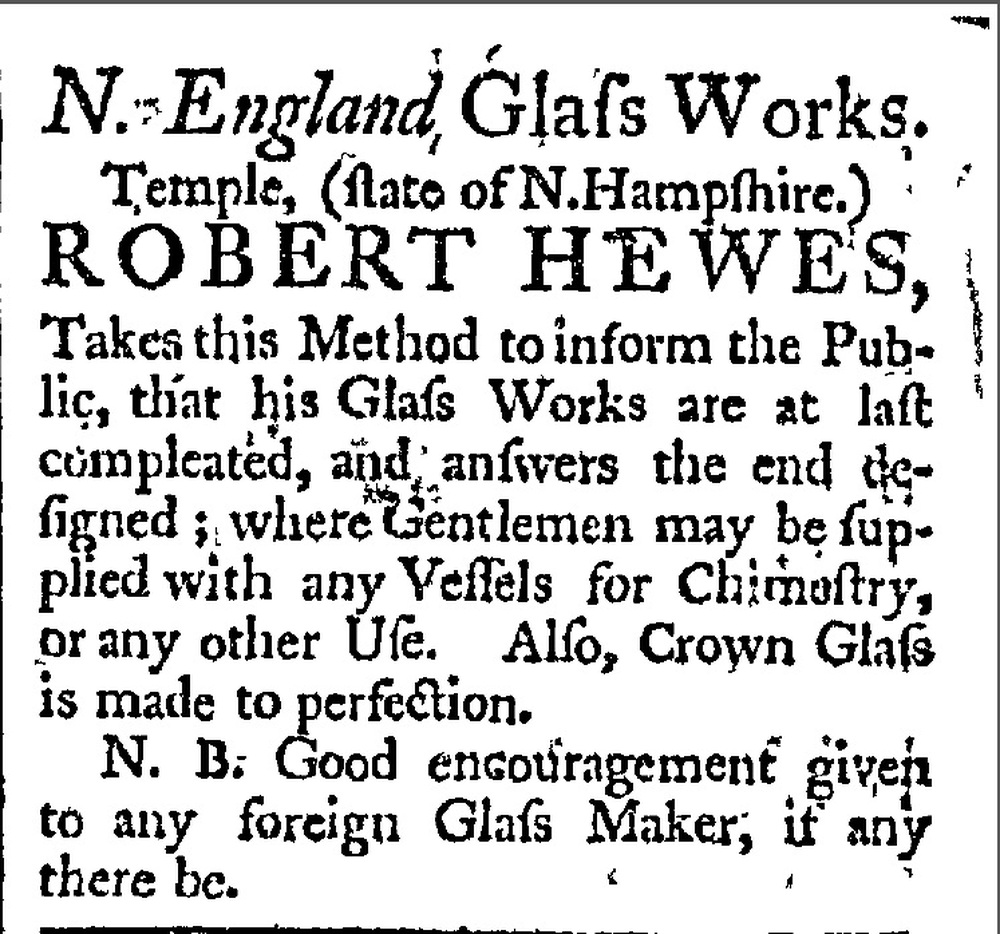 Below is a wine glass and a Chemistry vial that were produced at the factory (Chimastry) as Robert Advertised ) because of fragments that were found by Richmond Morcom in his investigation of the site. The second picture shows more items found at the factory site. All of these items are part of the Michael George Collection.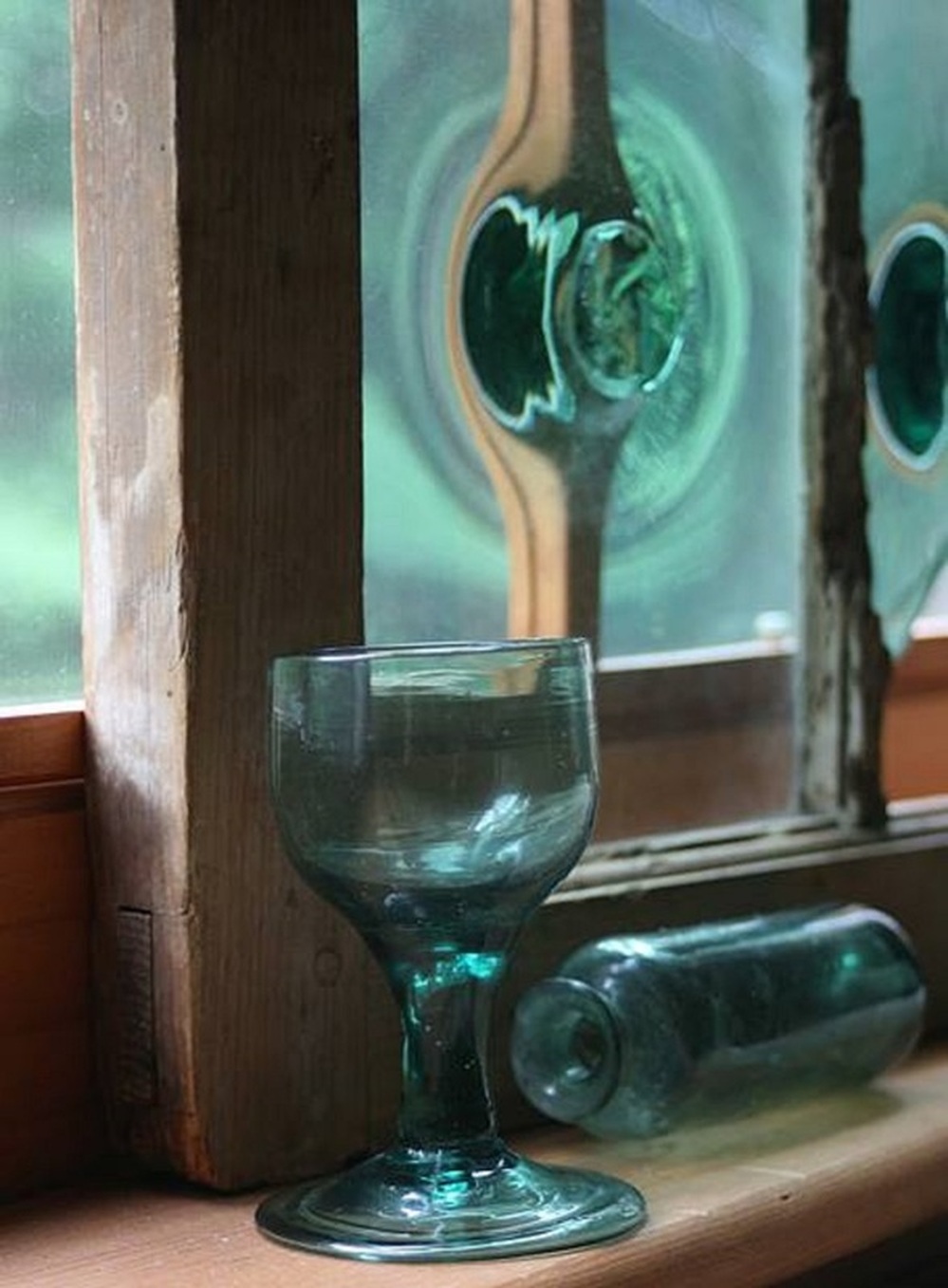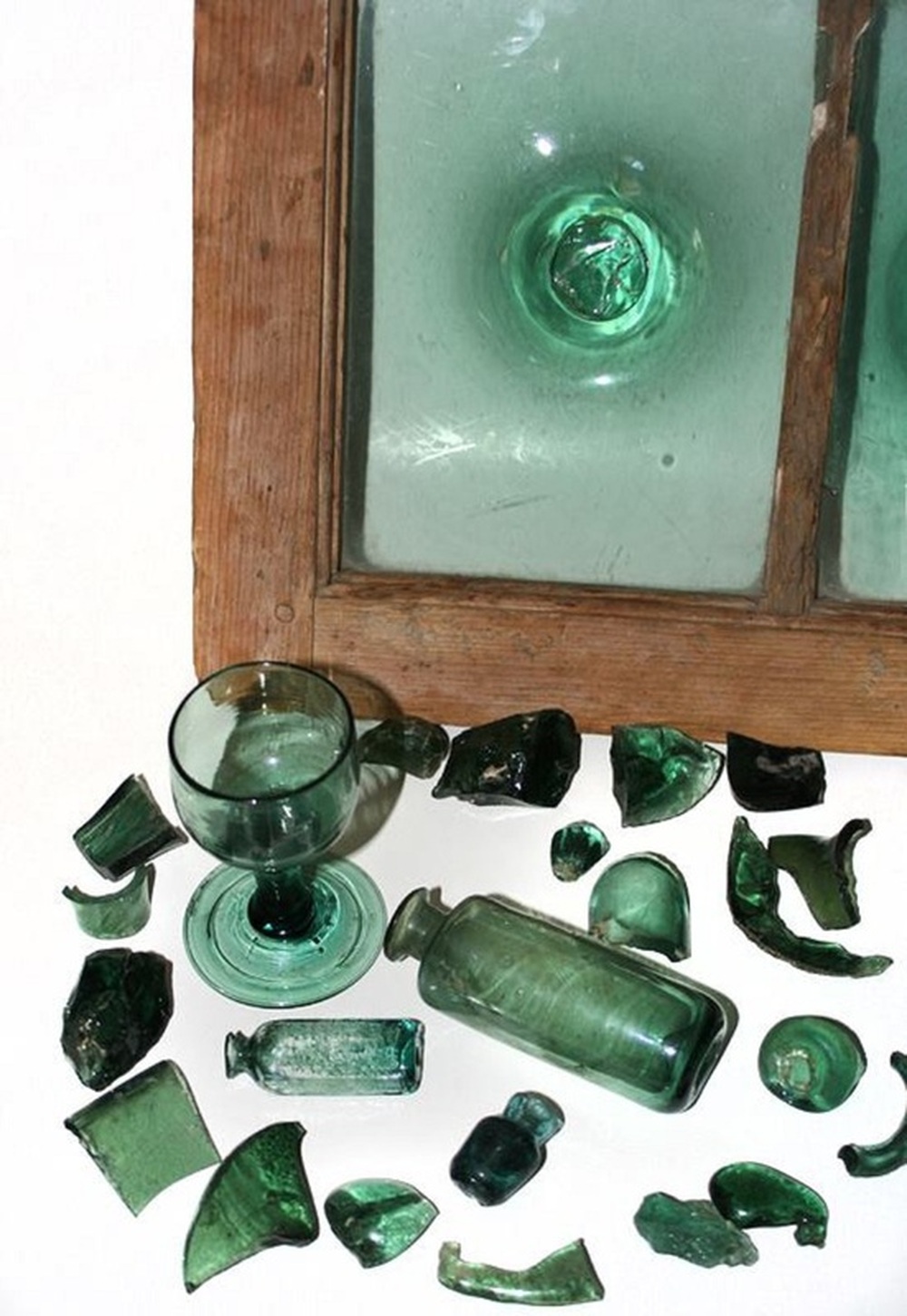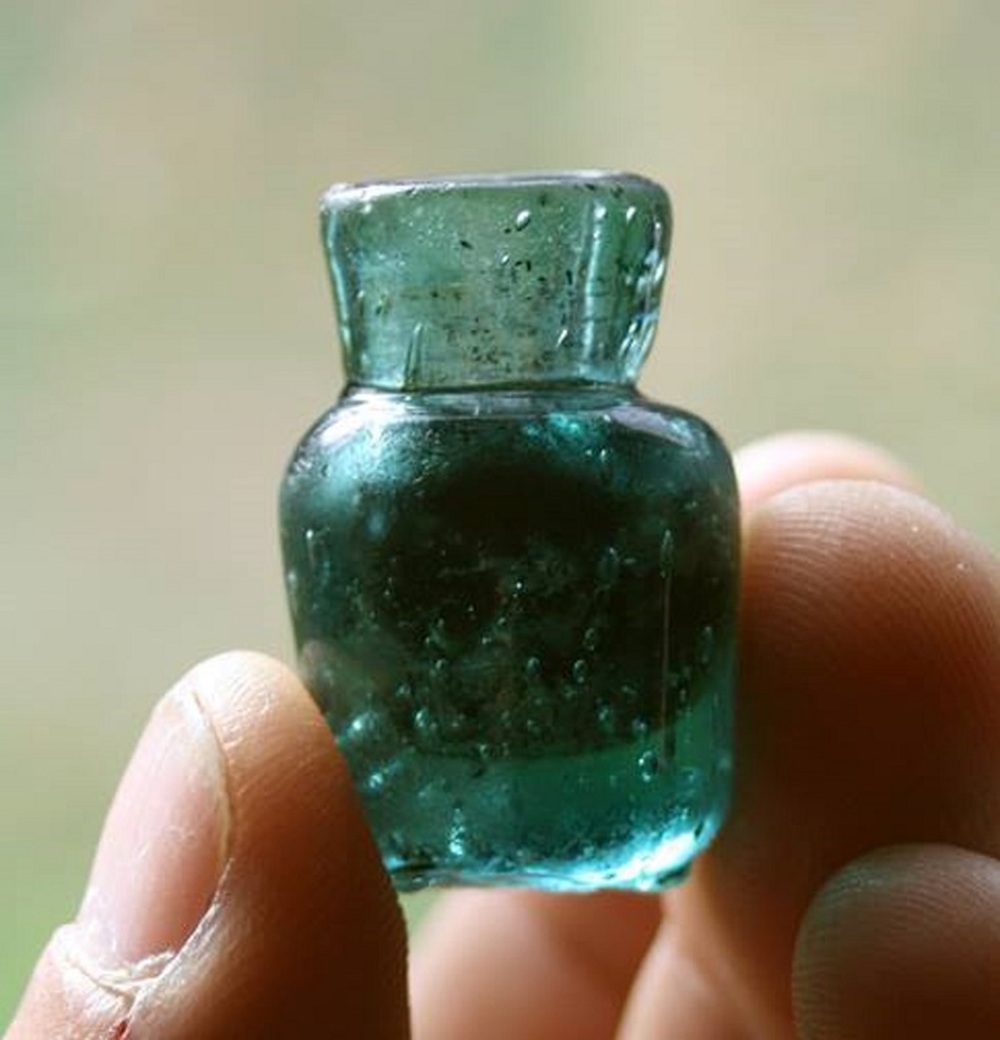 This is a partial bottle that Richmond Morcom found at the site, and the identical bottle that he found in a local shop in 1962.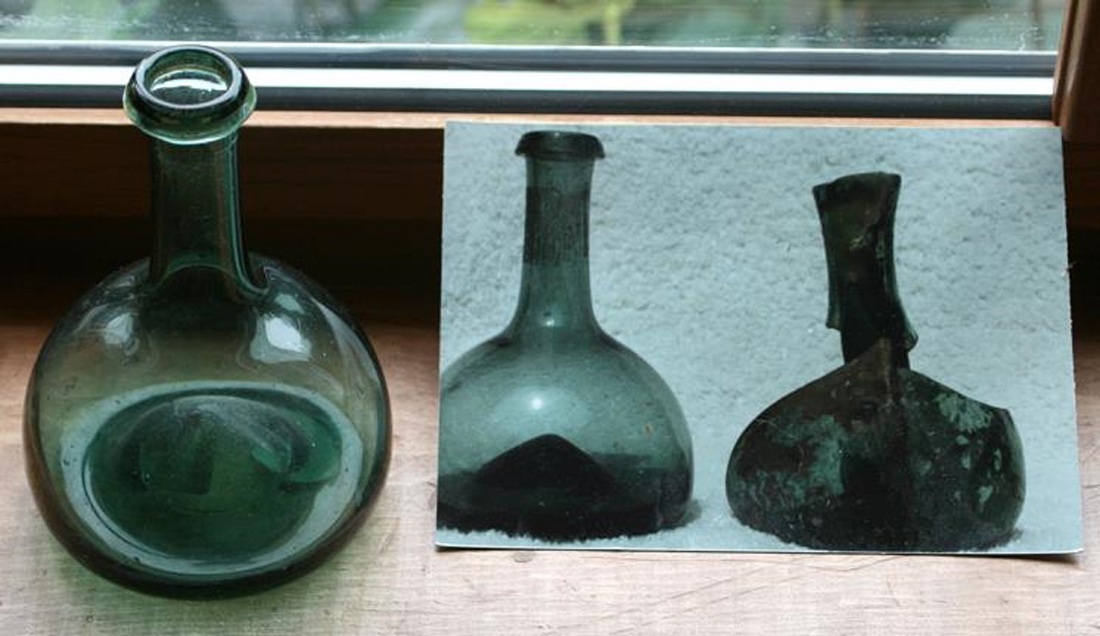 The bottle below is from the Michael George Collection.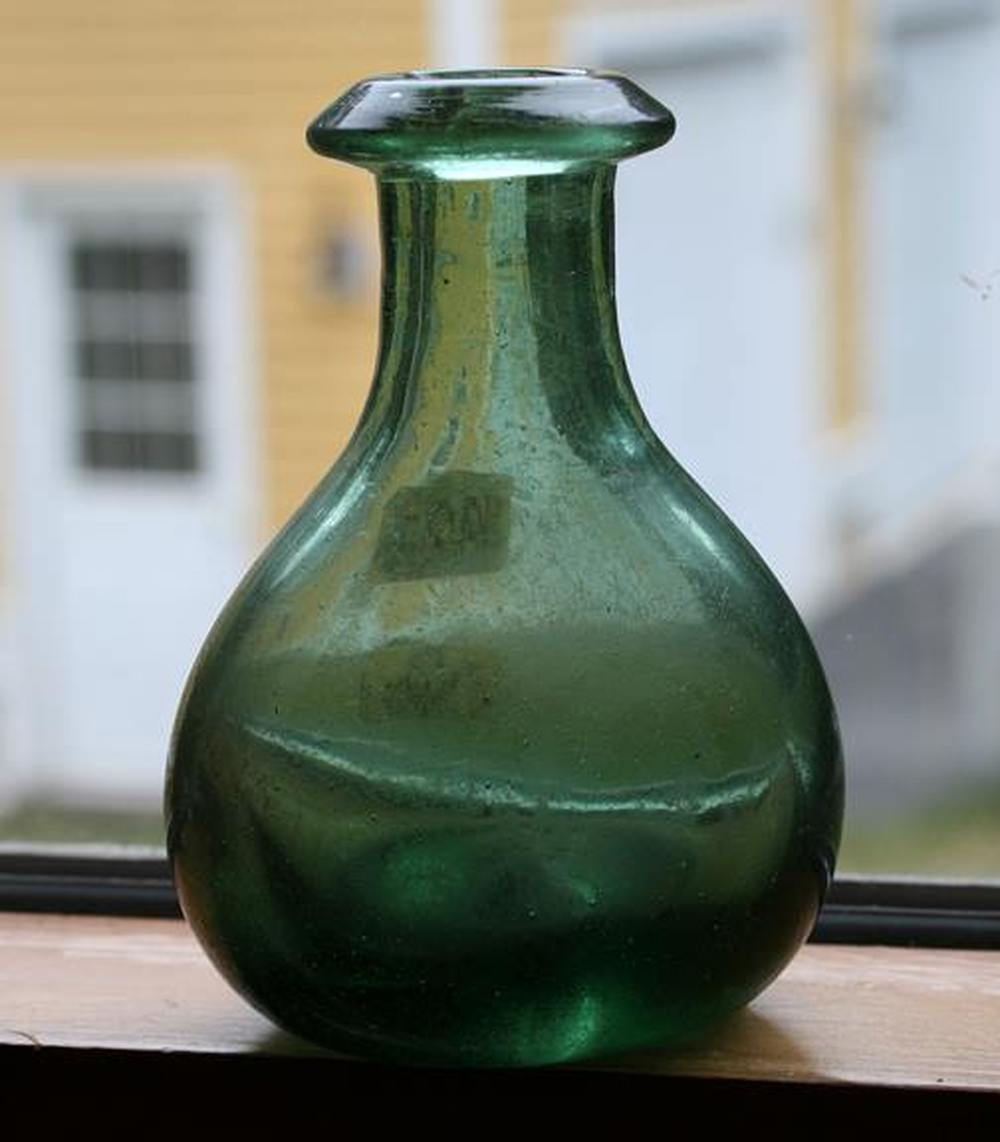 Below Left is the Robert Hewes Seal found by Richmond Morcom and on the right is a seal found in New Hampshire which has pretty strong evidence as to being made at the factory also.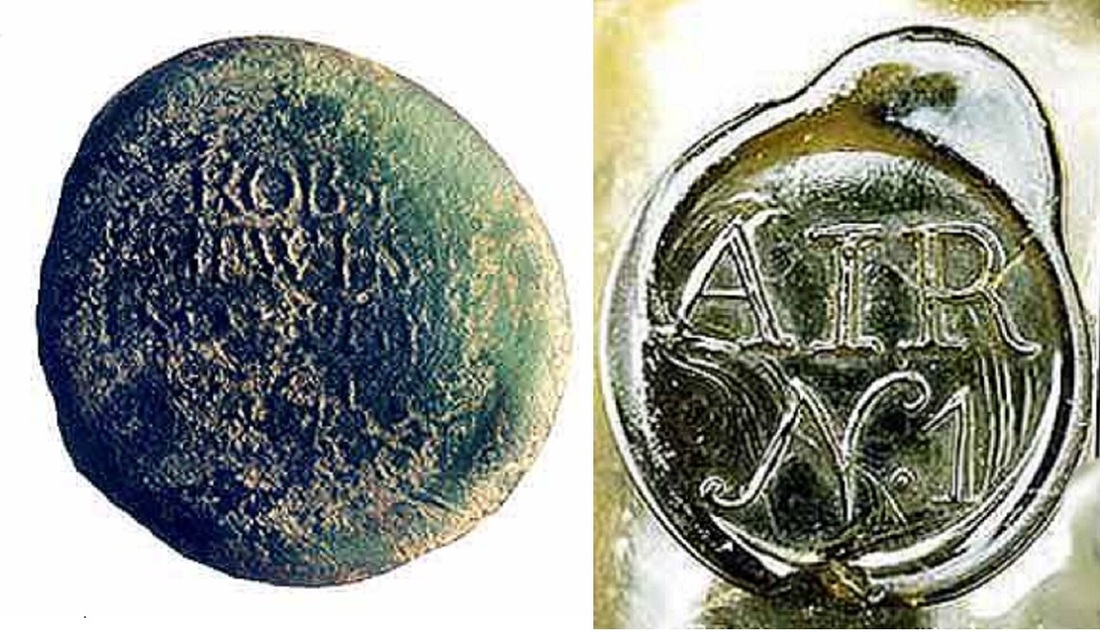 Robert Hewes was an extraordinary man. Everything that relates to him is of interest. Mr. Samuel Hewes, of Piqua, writes, " He was very ingenious and industrious, a great reader, and had an excellent education." " He taught the Scotch Highland broad sword to the officers of the army in the Revolution, and, if I recollect rightly, he taught a company of Boston cavalry, and composed and published a considerable book on the art of defense. I learned the broad-sword defense of him about 1812."

He was born in Boston, Mass., A. D., 1751, though begotten in London. His mother's maiden name was Ann Rose Frye. His father, who died while Robert was yet young, left him the snug property of $50,000, most of which he had probably acquired in the Tallow chandlery business, and we find Robert engaged in the same business in 1780. In one of twelve volumes of some English Encyclopedia, which his father gave him, was an Essay upon Glass-making. Robert's mind, which was singularly bold and enthusiastic, fastened upon the subject, and nothing, not even his wife, who was opposed, could deter him, but that he would make an article hitherto not made in America. His first experiment was successful, and the product, a green-tinted circular plate, was presented by him to the cabinet of Harvard University. His subsequent failure must alone be attributed to the vile casualty which destroyed his works. He retrieved his fortunes in after life, and his taxes grew larger year by year.

In 1795, he was a manufacturer of soap and glue. 1800,"late hog-butcher, now out of business." 1804, fencing master. The Boston Directory of 1825, a rare book, has "Hewes, Robert, surgeon bone-setter, corner of Essex; Poland starch-maker, 372 Washington street. Teacher of sword exercise, Boylston Market," 1829, Gentleman. He lived on the corner of Essex and Washington streets, in a large house, with a spacious court, and magnificent shade-trees. Old residents relate that they have often seen him, in his dressing-gown, play with the peacocks and paroquets in his yard. He was short, a bit rotund, of light complexion, and very active. " Sally," said he to his housekeeper, " I am 75 years old to-day, and I can handle broadsword better than any young man in Boston." He had also a wide celebrity as a surgeon, and Hewes's Liniment was a fine thing, known to pharmacy. Wm. H. Montague, Esq., of Boston, once went to consult him. " I remember his saying to me," says Mr. M., "'I made this Liniment and the bottles it is in.' " The " Columbian Centinel,"of July 21, 1830, contains the obituary. " In this city, Dr. Robert Hewes, aged 79 ; long known as a celebrated bone-setter and fencing-master." According to the City Register, he died of old age, and was buried in tomb No. 18, Central Burying-Ground, (on the Common.) There is no name on the tomb. He left no children, his wife being barren.

The information in this article was provided by Wm. H. Howard, James Patten, Esq., Wm. H. Montague, Boston, Mrs. A. Felton, Boston, Samuel Hewes, Esq., Roxbury , Michael George New Hampshire and Stephen Atkinson Sewell N. J.the owner of this web site. The glass picture content is part of the Michael George glass Collection.