American made Scroll flasks.

The American made scroll flasks are some of the most underated in the hobby. The only other charted historical flask with colors to match these are the Washington/Taylor half pint,pint and quart sized 1848 to 1865 flasks. As for beauty and eye appeal nothing comes close to these in their over all design. What a lot of collectors of these flasks do not realize is the French and at the same time Masonic influence on the very designs seen on them.

Start with the simple pointed stars seen on these flasks which adorns the top middle and sometimes bottom sections on these flasks. This is significant as the true meaning is really something quite different then just eye appeal. The 8 pointed star from ancient times was very Christian in its founding meaning regeneration or redemption. The seven pointed star is associated with Ancient Babylon . The 6 pointed star is the ancient symbol meaning creation, for the world was created in 6 days. The The fleur-de-lis or fleur-de-lys (plural: fleurs-de-lis) is a stylized lily (in French, fleur means flower, and lis means lily) or iris that is used as a decorative design or symbol. It may be "at one and the same time, religious, political, dynastic, artistic, emblematic, and symbolic", especially in French heraldry. It s origins however go back to ancient Egypt.

The one entity that combines all of the flasks attributes is Free Masonry which in this time period still had very strong roots in American culture. Just as the very early Mckearin charted predominately New England based Masonic flasks of the 1820 to 1830 era which were adorned with symbols seen in the Masonic halls these Scroll flasks were just as Masonic in make up as their slightly older counter parts. One must remember the strong influence the French still had at this time where these flasks were manufactured in the area between Pittsburgh and Ohio for originally it was their territory. It is my strong opinion through simple research these flasks were French influenced and very Masonic in nature.

Below are examples of Scroll flasks from Cody Zeleny who has begun a very nice looking collection of these flasks. Cody has a quite rare Pint sized GIX-16 Scroll Flask, Light Amethyst in color,very thin and quite fragile flask with an outstanding coloration. This flask has graced the collections of Fred Salisbury and was part of the 1990 Fred Salisbury Collection Auction . This flask at one time was also in the Brian Gray Collection. Seen also below is the pint sized GIX-45 Corset styled Scroll Flask which has a strong aquamarine color with a hint corn flower blue. This flask is one of the most outstanding flasks in his collection . These corset scrolls are some of the most beautiful historical flasks ever made. Please enjoy the views!!

Here is the GIX-10 - Pint - A good possibilty it was manufactured at the Lancaster Glass Works. It has a beautiful yellow green coloration, and is among one of Cody's favorite flasks. The color really glows when in proximity of his amethyst example. A great looking rare flask.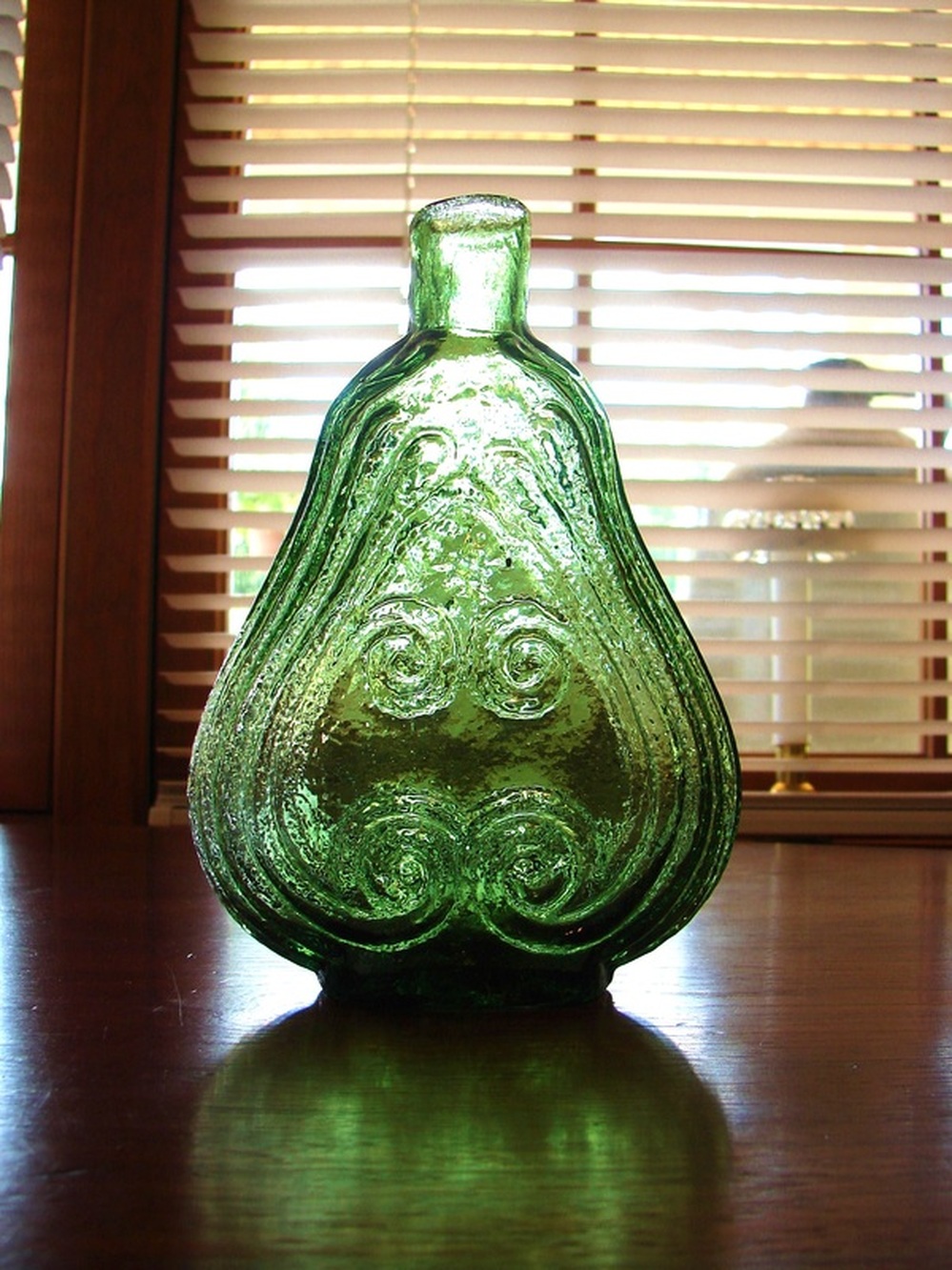 ---
The GIX-45 pint sized Scroll flask. It is in the Corsett style, and listed as scarce but should be listed as rare as it is a one of a kind design. Mckearin thought the flask was from the Pittsburgh district and that is a good possibility based on where most of these are still found. This flask is also in the Cody Zeleny collection and I thank him for allowing me to display this great flask.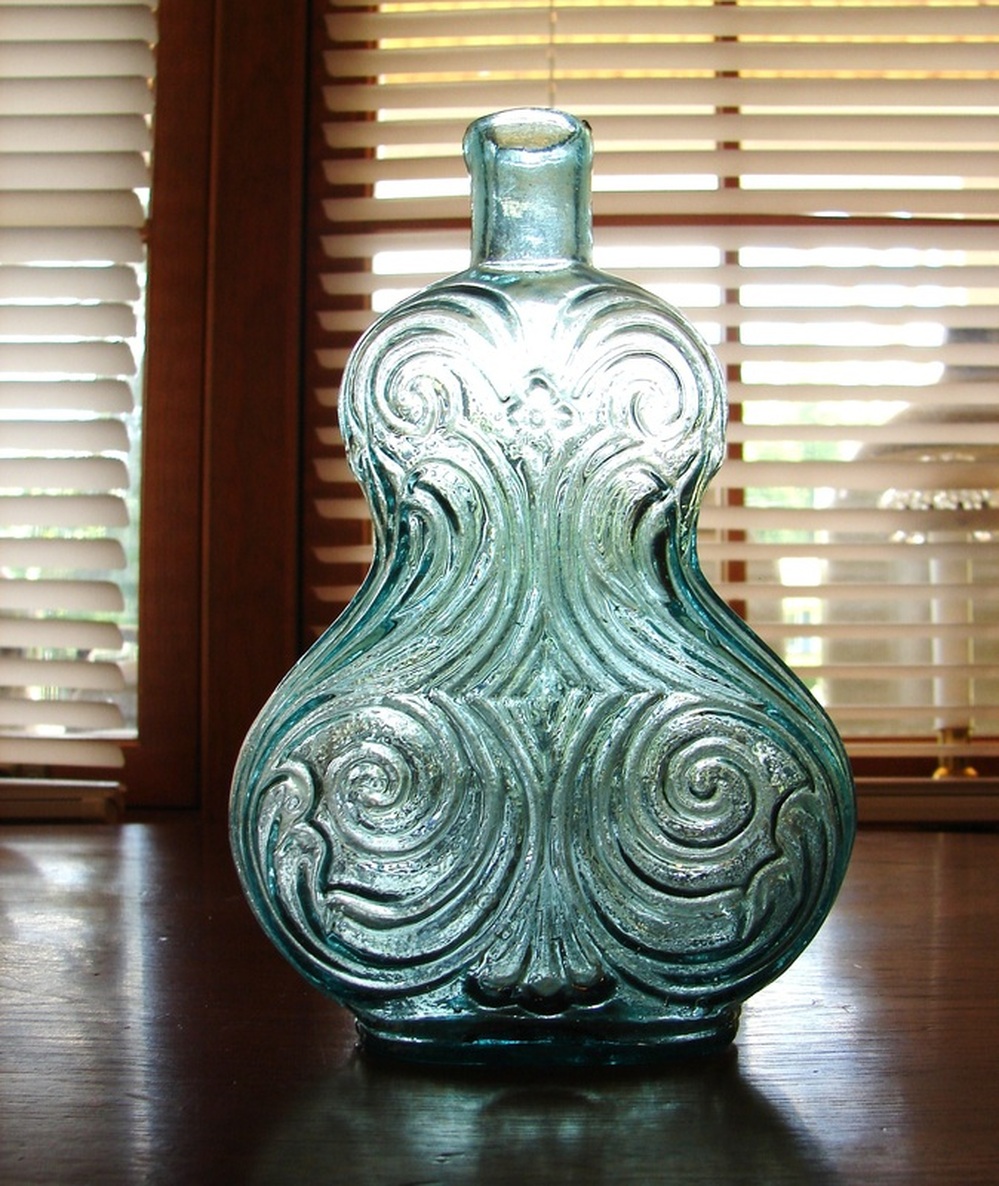 ---
GIX-24 – Pint – Scroll Flask. This flask is one of the two single letter embossed scroll flasks. This example bears the letter "A" and what it stands for is unknown at this time. The flask is in a great teal aqua color and features an open pontil. The GIX-24 Scroll flask is listed as rare and is part of the Cody Zeleny Collection.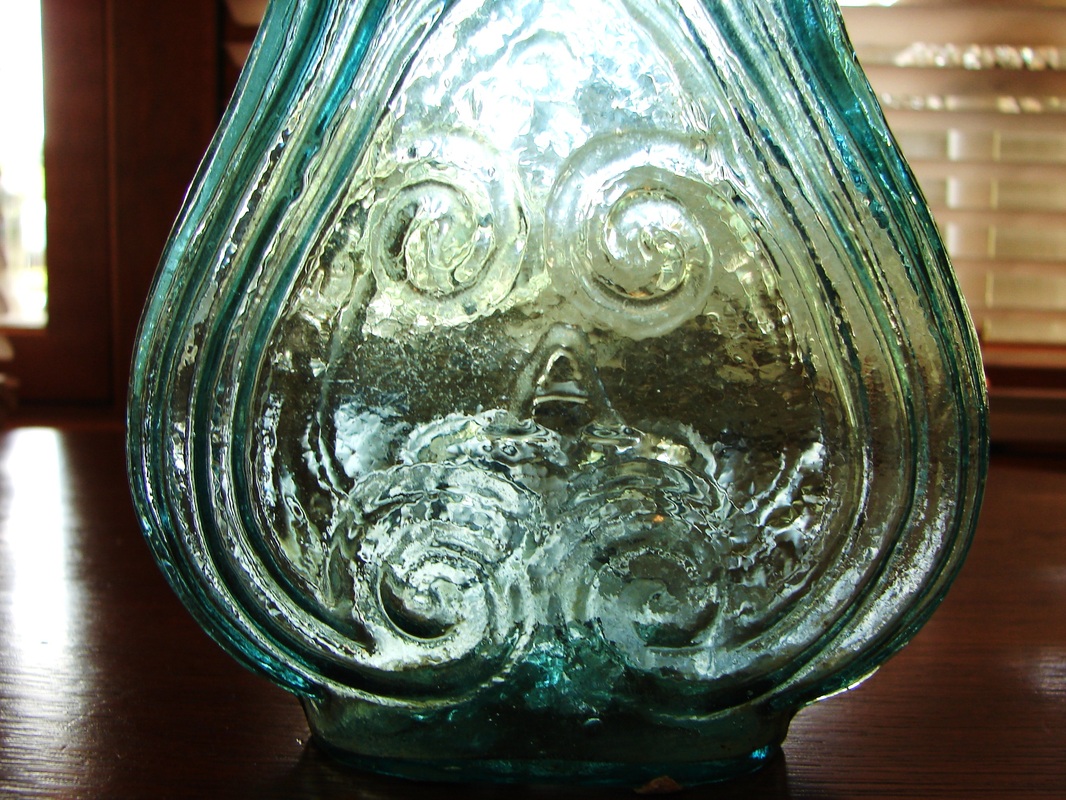 ---
GIX-25 Pint sized Scroll Flask in a cornflower blue color. The flask is definitely a mid western Pittsburgh, Ohio, or Kentucky manufactured one. This flask is the second of the single lettered scroll flasks. On this flask is the letter "C". Just as the GIX-24, what the letter signifys is unknown. The GIX-25 is listed as Scarce by Mckearin. This flask is now part of The Zeleny Collection, ex Meryle Slay collection.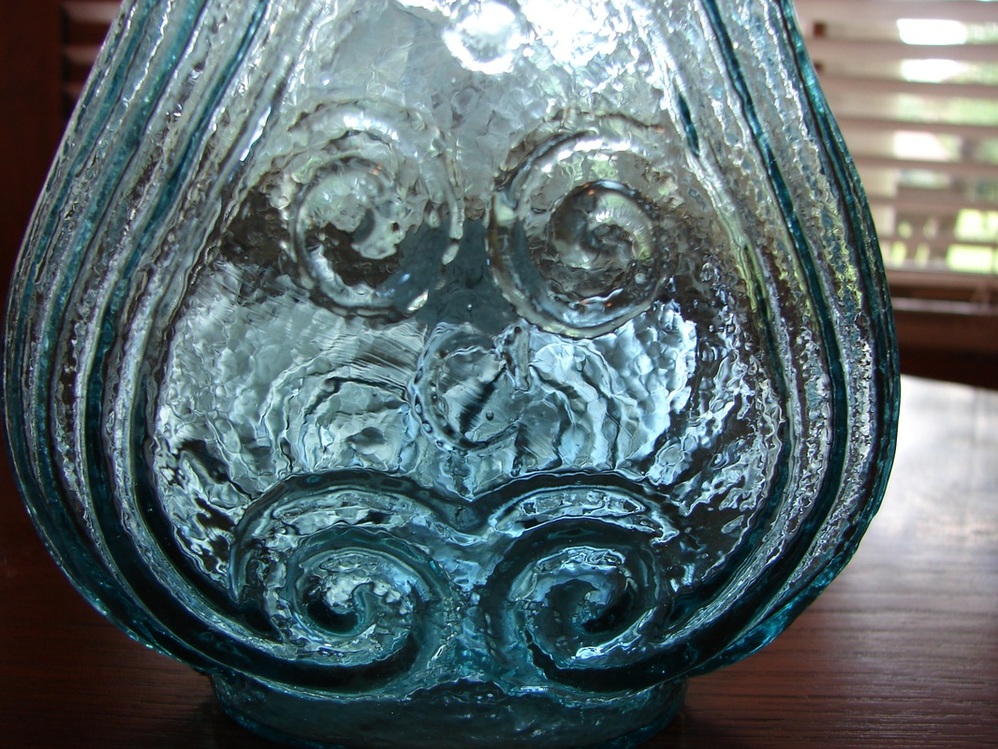 ---
Below are the three Scroll flasks in my collection. I know I can't compete with Cody but one of my flasks is considered rare by Mckearin the half pint sized GIX-3 on the right.